Table of contents
Volume 9, Issue 9, pp. 158 - 161, September 2022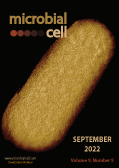 Cover: Atomic force microscopy image of live E. coli showing the outer membrane is a network of outer membrane proteins. Phase separated, protein-poor but lipopolysaccharide-enriched islands can also be seen distributed within the protein network (image by Georgina Benn, University College London (UK), currently Princeton University (USA); based on a study published as Benn, G. et al. (2021), Proc. Natl. Acad. Sci. 118 (44). doi:10.1073/pnas.2112237118; image modified by MIC). The cover is published under the Creative Commons Attribution (CC BY) license.
Enlarge issue cover
News and Thoughts
Flagellated bacterial porter for in situ tumor vaccine
Haiheng Xu, Yiqiao Hu and Jinhui Wu
page 158-161 | 10.15698/mic2022.09.784 | Full text | PDF | Abstract
Cancer immunotherapy, which use the own immune system to attack tumors, are increasingly popular treatments. But, due to the tumor immunosuppressive microenvironment, the antigen presentation in the tumor is limited. Recently, a growing number of people use bacteria to stimulate the body's immunity for tumor treatment due to bacteria themselves have a variety of elements that activate Toll-like receptors. Here, we discuss the use of motility of flagellate bacteria to transport antigens to the tumor periphery to activate peritumoral dendritic cells to enhance the effect of in situ tumor vaccines.