Table of contents
Volume 9, Issue 3, pp. 52 - 71, March 2022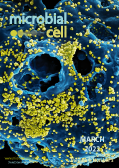 Cover: Colorized scanning electron micrograph of Middle East Respiratory Syndrome (MERS) virus particles (yellow) attached to the surface of an infected VERO E6 cell (blue). The image was captured and color-enhanced at the National Institute of Allergy and Infectious Diseases (NIAID) Integrated Research Facility in Fort Detrick, Maryland (USA); image retrieved via Flickr and modified by MIC. The cover is published under the Creative Commons Attribution (CC BY) license.
Enlarge issue cover
Research Articles
Cleavage-defective Topoisomerase I mutants sharply increase G-quadruplex-associated genomic instability
Alexandra Berroyer, Albino Bacolla, John A. Tainer and Nayun Kim
page 52-68 | 10.15698/mic2022.03.771 | Full text | PDF | Abstract
Topoisomerase 1 (Top1) removes transcription-associated helical stress to suppress G4-formation and its induced recombination at genomic loci containing guanine-run containing sequences. Interestingly, Top1 binds tightly to G4 structures, and its inhibition or depletion can cause elevated instability at these genomic loci. Top1 is targeted by the widely used anti-cancer chemotherapeutic camptothecin (CPT) and its derivatives, which stabilize Top1 covalently attached on a DNA nick and prevent the re-ligation step. Here we investigated how CPT-resistance conferring Top1 mutants, which emerge in cancer patients and cells treated with CPT, affect G4-induced genomic instability in S. cerevisiae. We found that Top1 mutants form stable complexes with G4 DNA and that expression of Top1 cleavage-defective mutants but not a DNA-binding-defective mutant lead to significantly elevated instability at a G4-forming genomic locus. Elevated recombination rates were partly suppressed by their proteolytic removal by SPRTN homolog Wss1 SUMO-dependent metalloprotease in vivo. Furthermore, interaction between G4-DNA binding protein Nsr1, a homolog to clinically-relevant human nucleolin, and Top1 mutants lead to a synergistic increase in G4-associated recombination. These results in the yeast system are strengthened by our cancer genome data analyses showing that functionally detrimental mutations in Top1 correlate with an enrichment of mutations at G4 motifs. Our collective experimental and computational findings point to cooperative binding of Top1 cleavage-defective mutants and Nsr1 as promoting DNA replication blockage and exacerbating genomic instability at G4-motifs, thus complicating patient treatment.
Microreviews
An ionophore breaks the multi-drug-resistance of Acinetobacter baumannii
David M.P. De Oliveira and Mark J. Walker
page 69-71 | 10.15698/mic2022.03.772 | Full text | PDF | Abstract
Within intensive care units, multi-drug resistant Acinetobacter baumannii outbreaks are a frequent cause of ventilator-associated pneumonia. During the on-going COVID-19 pandemic, patients who receive ventilator support experience a 2-fold increased risk of mortality when they contract a secondary A. baumannii pulmonary infection. In our recent paper (De Oliveira et al. (2022), Mbio, doi: 10.1128/mbio.03517-21), we demonstrate that the 8-hydroxquinoline ionophore, PBT2 breaks the resistance of A. baumannii to tetracycline class antibiotics. In vitro, the combination of PBT2 and zinc with either tetracycline, doxycycline, or tigecycline was shown to be bactericidal against multi-drug-resistant A. baumannii, and any resistance that did arise imposed a fitness cost. Using a murine model of pulmonary infection, treatment with PBT2 in combination with tetracycline or tigecycline proved efficacious against multidrug-resistant A. baumannii. These findings suggest that PBT2 may find utility as a resistance breaker to rescue the efficacy of tetracycline-class antibiotics commonly employed to treat multi-drug resistant A. baumannii infections.