Table of contents
Volume 6, Issue 5, pp. 212 - 266, May 2019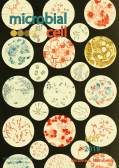 Cover: Image extracted from "Die Pflanzenwelt" (1913-1922) by the botanist Otto Warburg illustrating "the pathogenic bacteria of humans" (contributing library and digitizing sponsor: The LuEsther T Mertz Library, the New York Botanical Garden); image modified by MIC. The cover is published under the Creative Commons Attribution (CC BY) license.
Enlarge issue cover
News and Thoughts
Targeting GATA transcription factors – a novel strategy for anti-aging interventions?
Andreas Zimmermann, Katharina Kainz, Sebastian J. Hofer, Maria A. Bauer, Sabrina Schroeder, Jörn Dengjel, Federico Pietrocola, Oliver Kepp, Christoph Ruckenstuhl, Tobias Eisenberg, Stephan J. Sigrist, Frank Madeo, Guido Kroemer and Didac Carmona-Gutierrez
page 212-216 | 10.15698/mic2019.05.676 | Full text | PDF | Abstract
GATA transcription factors (TFs) constitute a conserved family of zinc-finger TFs that fulfill diverse functions across eukaryotes. Accumulating evidence suggests that GATA TFs also play a role in lifespan regulation. In a recent study, we identified a natural polyphenol, 4,4'-dimethoxychalcone (DMC), that extends lifespan depending on reduced activity of distinct GATA TFs. Prolonged lifespan by DMC treatment depends on autophagy, a protective cellular self-cleansing mechanism. In yeast, DMC reduces the activity of the GATA TF Gln3 and, genetic deletion of Gln3 is sufficient to increase autophagy levels during cellular aging. In addition, we observed similar changes in the abundance of several amino acids in the metabolome of DMC-treated and GATA/Gln3 depleted cells. Here, we examine current data on the involvement of GATA TFs in the regulation of autophagy and longevity in different organisms and explore if GATA TFs might be suitable targets for anti-aging interventions.
Reviews
Ser/Thr protein phosphatases in fungi: structure, regulation and function
Joaquín Ariño, Diego Velázquez and Antonio Casamayor
page 217-256 | 10.15698/mic2019.05.677 | Full text | PDF | Abstract
Reversible phospho-dephosphorylation of proteins is a major mechanism for the control of cellular functions. By large, Ser and Thr are the most frequently residues phosphorylated in eukaryotes. Removal of phosphate from these amino acids is catalyzed by a large family of well-conserved enzymes, collectively called Ser/Thr protein phosphatases. The activity of these enzymes has an enormous impact on cellular functioning. In this work we present the members of this family in S. cerevisiae and other fungal species, and review the most recent findings concerning their regulation and the roles they play in the most diverse aspects of cell biology.
Research Articles
Mitochondria-Associated Membranes (MAMs) are involved in Bax mitochondrial localization and cytochrome c release
Alexandre Légiot, Claire Céré, Thibaud Dupoiron, Mohamed Kaabouni, Nadine Camougrand and Stéphen Manon
page 257-266 | 10.15698/mic2019.05.678 | Full text | PDF | Abstract
The distribution of the pro-apoptotic protein Bax in the outer mitochondrial membrane (OMM) is a central point of regulation of apoptosis. It is now widely recognized that parts of the endoplasmic reticulum (ER) are closely associated to the OMM, and are actively involved in different signaling processes. We addressed a possible role of these domains, called Mitochondria-Associated Membranes (MAMs) in Bax localization and function, by expressing the human protein in a yeast mutant deleted of MDM34, a ERMES (ER-Mitochondria Encounter Structure) component. By affecting MAMs stability, the deletion of MDM34 altered Bax mitochondrial localization, and decreased its capacity to release cytochrome c. Furthermore, the deletion of MDM34 decreased the size of an incompletely released, MAMs-associated pool of cytochrome c.