Table of contents
Volume 8, Issue 10, pp. 239 - 255, October 2021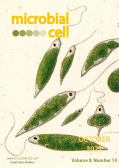 Cover: Euglena is a genus of single-celled flagellate eukaryotes found in fresh water and salt water. The cover depicts a portrait of Euglena viridis by the German naturalist, zoologist, geologist, and microscopist Christian Gottfried Ehrenberg (image published in "Die Infusionsthierchen als vollkommene Organismen. Ein Blick in das tiefere organische Leben der Natur.", 1838; image retrieved via Flickr and modified by MIC). The cover is published under the Creative Commons Attribution (CC BY) license.
Enlarge issue cover
Reviews
Using microbial metalo-aminopeptidases as targets in human infectious diseases
Jorge González-Bacerio, Maikel Izquierdo, Mirtha Elisa Aguado, Ana C. Varela, Maikel González-Matos and Maday Alonso del Rivero
page 239-246 | 10.15698/mic2021.10.761 | Full text | PDF | Abstract
Several microbial metalo-aminopeptidases are emerging as novel targets for the treatment of human infectious diseases. Some of them are well validated as targets and some are not; some are essential enzymes and others are important for virulence and pathogenesis. For another group, it is not clear if their enzymatic activity is involved in the critical functions that they mediate. But one aspect has been established: they display relevant roles in bacteria and protozoa that could be targeted for therapeutic purposes. This work aims to describe these biological functions for several microbial metalo-aminopeptidases.
Research Reports
Airborne bacteria in show caves from Southern Spain
Irene Dominguez-Moñino, Valme Jurado, Miguel Angel Rogerio-Candelera, Bernardo Hermosin and Cesareo Saiz-Jimenez
page 247-255 | 10.15698/mic2021.10.762 | Full text | PDF | Abstract
This work presents a study on the airborne bacteria recorded in three Andalusian show caves, subjected to different managements. The main differences within the caves were the absence of lighting and phototrophic biofilms in Cueva de Ardales, the periodic maintenance and low occurrence of phototrophic biofilms in Gruta de las Maravillas, and the abundance of phototrophic biofilms in speleothems and walls in Cueva del Tesoro. These factors conditioned the diversity of bacteria in the caves and therefore there are large differences among the CFU m-3, determined using a suction impact collector, equipment widely used in aerobiological studies. The study of the bacterial diversity, inside and outside the caves, indicates that the air is mostly populated by bacteria thriving in the subterranean environment. In addition, the diversity seems to be related with the presence of abundant phototrophic biofilms, but not with the number of visitors received by each cave.